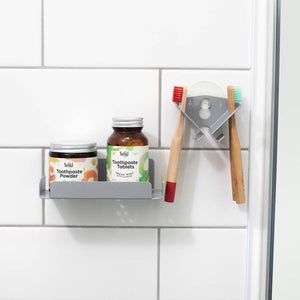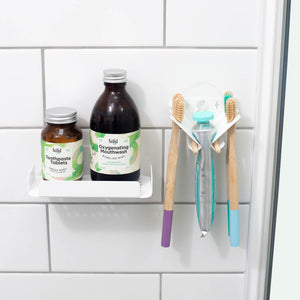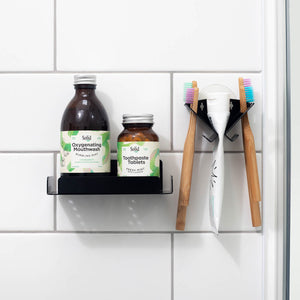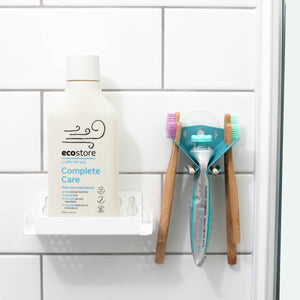 Brush Dock for 4
"Love this! This is what I was missing from my bathroom. No more cup full of dirty drips. My kids love hanging up their toothbrush too - the only time I have ever seen them enthusiastic about putting something back in it's rightful place! It also extends the life of our bamboo toothbrushes, so a winner all round. Highly recommend."  Martina, VIC
Never ever again will you have to clean out the bottom of the cup that has been holding your toothbrushes. That disgusting muck is gone for good! Nor will you suffer with moulding bamboo.
The Brush DockTM is made to suit manual, handled toothbrushes. They simply hang in the small side slots. They'll be happy whichever way you face them so pick what works best for you. The heads of your electric toothpaste can be stored in this too - they often prefer to be backed in.
Here's the best bit: The toothpaste tube simply slides (cap to the top) in and out of the centre of the Brush DockTM. As your tube gets empty simply bend it up and slide it in folded. It's SUPER EASY to use.

If you use interdental brushes, the fold in the legs is there so you can store those on the wee ledge that's created. If you have a metal tongue scraper you can hang that over that area too. I call them the underflaps – seems as good a name as any to me! If your tongue cleaner is brush style it can claim one of the Brush Dock's parking spots.
This one fits FOUR hanging items - e.g. brush, tongue cleaner, and measures 8.5cm wide x 5.4cm tall x 5cm deep and weighs 28grams. It comes with a suction cup for mounting to smooth, non-porous surfaces. 
This accessory comes by default with a pvc suction cup for mounting to surfaces that are smooth and non-porous (acrylic, glass, mirror, vitreous china, many smooth tiles but not all).  Wet the back before adhering. If you'd rather have a natural rubber suction cup than a pvc one you can make the switch here. Suction cups won't stick to rough or porous surfaces, like textured tiles or paint because they can't form the vacuum needed to work. If you are at all unsure if suction cups will work at your place, we suggest you add in some of our triangular nanotapes too. 
*Little Shelfie to hold toothpaste tablets and mouthwash is sold separately.
Need a Little Shelfie too? She's here
Please be sure to read our installation and care recommendations: How to look after your accessory to ensure it serves you well.
Your toothcare storage will be transformed. It looks simple, and it is. That's also why it works! 
The best thing ever
I now feel joy instead of horror whenever getting my toothbrush. Sticks easily to the mirror and is so nice to have dry toothbrushes instead of gunky ends. Thank you for a fantastic product.
Highly recommend!
Exceeded expectations- holds everything so easily and now have extra space on the bench. Great product!
Great space saver and tidier with kids
We love this tooth brush dock. No more brushes lying around next to the basin or getting manky in a cup holder. This keeps them clean and dry, its so hygienic, and the kids like it too
Love my brush dock!
I bought this product to stick to our mirror in the bathroom, so that our toothbrushes were lifted off the wash basin area. Its perfect for what we need. Its really strong, easily holding 4 toothbrushes and the toothpaste, doesn't stick out and looks great! Thank you
Space saver & no gunky container!
Love the brush dock, Saves space by the sink & no need for a messy cup that ends up with gunk in the bottom, win win!
Handy storage
Such a handy little invention. Way better than using a cup that gets scummy in the bottom with toothpaste and it stuck on to our tiles easily. The kids enjoy hanging their brushes up and bonus that it holds the toothpaste too