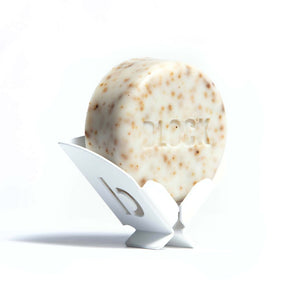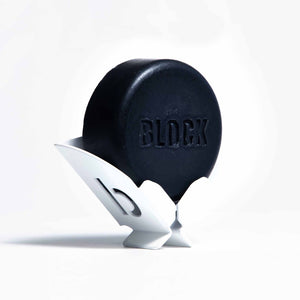 Block Hand and Body Soap - 3 Choices
If you're a fan of round bars (like me), you'll enjoy these 80gram bars. Lovely to look at, delightful to hold and long lasting whatever their purpose. Whichever size of Block Dock you own they'll fit comfortably in, though they are nice and snug in the Slim.
Without question we're all going to be washing our hands thoroughly with soap for a long time to come. Honestly, we should have always been doing this and now we know better. It's worth buying good quality bars. 
These ones are made for us by Tracey at Cover Road Soapworks. They're full of quality ingredients and have a good lather. We offer a simple unscented option for those who have concerns about smell, a lightly exfoliating activated charcoal and pumice option, and a more intensely exfoliating juniper bar for when you need to deal with dry skin and tougher cleaning situations. 
I use these bars for both hands and body and they last and last and last!
We also offer them as a set of 3 here.  
Ingredients are:Unscented: OLIVE OIL, COCONUT OIL, DISTILLED WATER, SODA LYE (none remains), RICE BRAN OIL, SHEA BUTTER, COCOA BUTTER, CASTOR OIL,  SALT, COLLOIDAL OATMEAL
Juniper: OLIVE OIL, COCONUT OIL, DISTILLED WATER, SODA LYE (none remains), SUNFLOWER OIL, ALMOND OIL, CASTOR OIL,  SALT, JUNIPER BERRIES, ESSENTIAL OILS OF JUNIPER, ORANGE AND GRAPEFRUITActivated Charcoal & Pumice: OLIVE OIL, COCONUT OIL, DISTILLED WATER, SODA LYE (none remains), SUNFLOWER OIL, COCOA BUTTER, CASTOR OIL,  SALT, ACTIVATED CHARCOAL, PUMICE POWDER, GREEN CLAY, ESSENTIAL OILS OF TEA TREE, EUCALYPTUS, PEPPERMINT AND LAVENDER