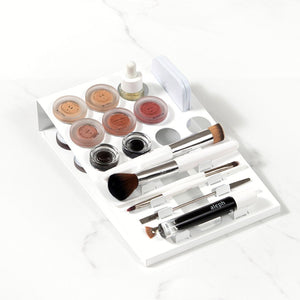 Aleph Make Up Tray for Face and Eye Products [WITH BASE]
"Great for your Aleph make up. Love this tray for my make up and brushes from Aleph. It fits in my bathroom draw or on my bench near the mirror." Deidre, Wellington
We love Aleph make up so it seemed obvious to make some storage options to suit it.
Our Aleph Tray is 28cm long x 18cm wide x 5cm tall. It's made from Aluminium and is powdercoated to be hardwearing and long-lasting. We've only made it white so far.
It is designed to fit 6 glass jars (CF size) on rows 1 and 2 and 4 glass jars (eye size) on row 3. Your serum will fit in a CF space. All jars will have their details facing up so you know which is which. There's a slot for your translucent powder too. Plus there are 6 ledges for holding your brushes and accessories with gaps to make picking them up easy. We've put a full tray base in the bottom so you can move your make up set around easily, and/or slide some extra bits and bobs underneath.
Great for your Aleph make up.
Love this tray for my make up and brushes from Aleph. It fits in my bathroom draw or on my bench near the mirror.