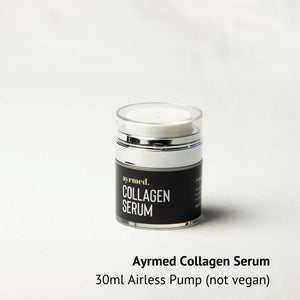 Ayrmed Collagen Serum Airless Pump 30ml
If you've already tried the Ayrmed Collagen Serum sample in Her Cool Kit, likely you'll want to stock up with more! 
Repair and rejuvenate your skin with this effective combination of full length collagen and hyaluronic acid, buffered with acetic acid and sodium hydroxide. 
This product is a great addition to your skincare routine and is also truly excellent for fast healing of cuts and grazes and burns. I cut my finger accidentally with a bread knife (OUCH!) and popped this collagen on it, within a day it had started to heal.
Now at half price for our current stock, you won't be disappointed! This product is, as they say, the Schizz! I would never be without it.
*Note: this product is Not Vegan