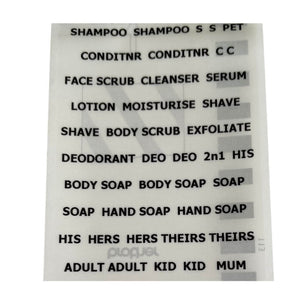 Block Dock Labels
Keen to label each Block Dock with either what's in it or whose is it? Or both? 
We've made a sheet of label options for you to mix and match as you choose. All the obvious bars are covered and all the bathroom sharers we can think of too. Along with choosing different coloured Block Docks to differentiate, these labels should be all you need to remove confusion or aid memories about which bar is which or whose.
Labels come in a sheet for you to cut and stick to flanges at the front of the Block Dock, unless you prefer them somewhere else on the Dock or alternatively on the wall - then they go there! They won't last forever but they should give you a solid showing. 
And for those of you who wanted a Don't Touch option, it's there!
Labels sheets come in  transparent with black text for coloured Block Docks and white with black text for Black Block Docks.
These are all the words on the sheet:
SHAMPOO SHAMPOO S S PET

CONDITNR CONDITNR C C

FACE SCRUB CLEANSER SERUM

LOTION MOISTURISE SHAVE

SHAVE BODY SCRUB EXFOLIATE

DEODORANT DEO DEO 2n1 HIS

BODY SOAP BODY SOAP SOAP

SOAP HAND SOAP HAND SOAP

HIS HERS HERS THEIRS THEIRS

ADULT ADULT KID KID MUM

MUM DAD DAD SON SON MINE

DAUGHTER DAUGHTER MINE

GUEST GUEST MASK LAUNDRY

DISH MUM'S ONLY DAD'S ONLY

DON'T TOUCH! NOT YOURS! 2n1

PUT IT BACK! MASK HAIR HAIR
Don't think they are too waterproof
They are cheap which is great but they aren't waterproof I think. I washed my block the other day and the writing has come off a bit after only one wash. Like I don't care because they were cheap and I'll probably just get more when they run out. They are perfectly sized for the block which I loved.
Great function, versatile, long-lasting, and looks good!
So easy to mount anywhere. Perfect solution for my switch to soap, shampoo and conditioner bars. It's so nice to buy a quality product. I expect I'll have these for the rest of my life. Oh and they look good and don't clutter surfaces.
Some labels are good!
When you've made the switch to solid blocks of shampoo, conditioner, cleanser, moisturiser, exfoliant - oh and soap - there are some puzzling moments you hadn't anticipated ... You step into the shower in the morning, in a haze of sleepiness, and reach for a bar and suddenly you're exfoliating your scalp, or moisturising it when actually all you wanted to do was shampoo your hair. The colours don't always help when you've forgotten its family of origin! Hence my purchase of labels: waterproof, sticky labels which you pop onto your block decks - and hey presto! - you know what is what. Labels aren't good for humans but for differentiating shower blocks, in a short-sighted steamy haze, they are magnificent! Thoroughly recommend.
Labels
Great for identification but need to be slightly bigger or bolder for those of us that wear glasses!