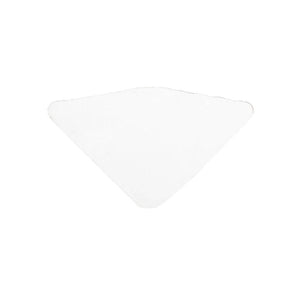 Triangle Nanotape Backings
If you've got a textured surface that won't accept suction cups our nanotape backings are an alternative option. We've tried them on many (but not all) textured surfaces and there's only been a few that don't like them. Nanotape is said to be removeable without a trace, from most surfaces but I wouldn't be confident to say all. I have found them a little tricky on a painted surface.
We recommend settling on your ideal location for each item before adhering with nanotape. Both sides are the same, even though the paper is different. This solution makes it easier to get your Docks right where you can reach them for easy use.
Removing is best done by twisting off the accessory being held by it and then picking the tape off your surface. 
We can't guarantee that nanotape will work on all surfaces, but it certainly works on more than the suction cups do. Use at your own risk. If it doesn't work for you then your best alternative is the Block Dock Base for flat surface use.