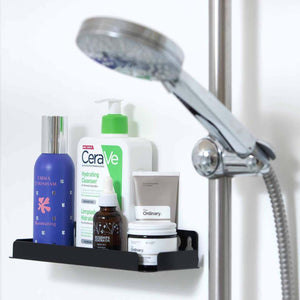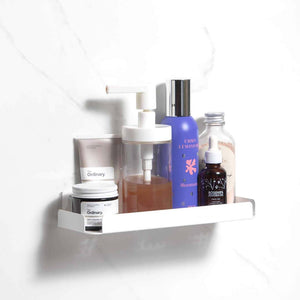 Bigger Shelfie for Extra Shower Storage
"This product is very convenient for holding hair products, soap and razor attached to the shower wall. Much better than an 'over the tap' hanging thing." E, Auckland
You asked (and asked) and here it is...A bigger sized Shelfie!
Looking every bit as good as the Little Shelfie, the Bigger Shelfie is 24cm long, 9cm wide and 4cm tall, and weighs 110grams. Made in aluminium and powdercoated to be hardwearing and long lasting. We'll send it with 4 pvc suction cups and 2 nanotape strips if you need them. (If you just want the nanos please say "no suction cups" in the notes for your order)
Your Bigger Shelfie will fit quite a lot but please don't overload it. Big heavy bottles won't sit well. If it's starting to droop at the front then there's too much on top! The nanotape strips will hold the Bigger Shelfie the most firmly so if your surface suits, we highly recommend you use those.
Please be sure to read out installation and care recommendations: How to look after your accessory to ensure it serves you well.
Excellent storage solution
This product is awesome if you use the strips! We adhered it to our painted bathroom wall above the vanity. The suckers didn't work but the strips were excellent. Much more room on our vanity now and perfect storage solution for cleanser, moisturizers etc!
Pretty good but could be better
I'll be honest here and say I was a little disappointed in this. The shelf droops down a bit even after securing with all the suckers. It's staying up and holding things but it drops forwards and doesn't look that great. Bit disappointing for the price.
Hi Ana
Thanks for your feedback. Good or bad we're keen to hear it. You should have received 2 nanotape strips either your shelfie along with the suction cups. The nanotapes are there as a back up if your suction cup+products on the shelf combo causes a slight droop. That said, we do note in the product information that if your shelf starts to droop it's overloaded. It may be you need to rearrange the weight load or reduce it. Best is to use the nanotapes for attaching the Bigger Shelfie to the wall because they have no 'give' in them. If you need more please let us know, we'll happily send them to you.
Beautiful
It holds well, but has a slight forward tilt so taller bottles are at risk of toppling over. Overall, it's great and looks nice in the shower - much better than anything from Bunnings etc.
Big Shelfie
This product is very convenient for holding hair products, soap and razor, attached to the shower wall. Much better than an 'over-the-tap' hanging thing. I would recommend it.
Well designed and beautifully engineered
This little shelf is as pretty as it is useful. The large sucker cups supplied easily hold this securely to the smooth shower wall, though if you want more security you can get sticky patches too. It easily hold the soap and shampoo bottle belonging to my boarder.