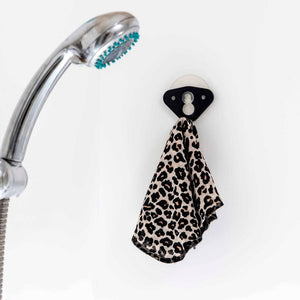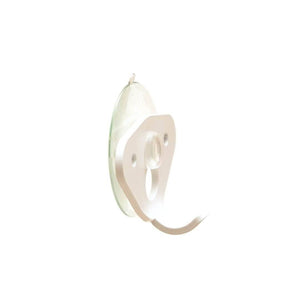 Handy Hookup
"Super Handy. These hooks are stylish and well made. They adhere well to tiles and can be moved around to suit." Liz, Auckland
You know what's always handy? A hook! 
And look....now there's one to match your Block Docks! Your bathroom gets better looking by the day! Match a hook (and a suction cu)p and what do you get? A Hookup!
Measuring 6cm wide, 4.5cm high and 2.5cm deep and attaching by suction to smooth non porous surfaces, this little cutie is here to get the job done. 
Hang your tongue cleaner alongside your toothbrushes
Hang your facecloth, flannel, loofah, showercap or body brush? Yes, Yes, Yes, Yes, Yes
Perform double duty and hold the squeegee? Yes 
Work in pairs to rest your makeup brush? Yes
Help the bathmat to dry? Yes
Hold a light towel? Yes and maybe a heavier one if your surface allows. You might need two hooks
Display your necklaces for easy access? Yes...
......there's no end to how handy a hookup can be. If you need to hang it, chances are the Hookup is right for the job. And did I mention good looking too?  The Hookup comes in four of the most popular colours of the Block Dock - white, black, silver and teal!
This accessory comes by default with a pvc suction cup for mounting to surfaces that are smooth and non-porous (acrylic, glass, mirror, vitreous china, many smooth tiles but not all).  Wet the back before adhering. If you'd rather have a natural rubber suction cup than a pvc one you can make the switch here. Suction cups won't stick to rough or porous surfaces, like textured tiles or paint because they can't form the vacuum needed to work. If you are at all unsure if suction cups will work at your place, we suggest you add in some nanotapes too. You'll need to cut to size for the hookup.
Please be sure to read our installation and care recommendations: 
How to look after your accessory to ensure it serves you well.
Hook from heaven
My second hook purchase and I love them. Most versatile hook for all those things that need hanging. Great in the shower and around the bathroom and kitchen.
So handy.
Grabbed a couple of hooks and love them. They super handy for flannels and tongue scrapper.
Love my hook
Always need a hook in the shower
And the suction is fantastic
Usual great quality
Really cute, love the teal
Easy to install, very sturdy. Love the design and look. Works like a charm
Best hooks ever!
I have these all around the house and they truly are amazing. They're hanging up cloths in the shower, the kids' non-slip mat near the bath, a fly swat and a mini brush n shovel neatly down the side of the fridge... even holding on tight on the inside of the pantry where one keeps a fire blanket tucked handily away in case of kitchen emergencies. I honestly can't recommend these enough. They suction on firmly, yet come off cleanly if you want to move them. Endless uses!