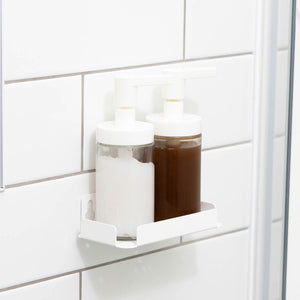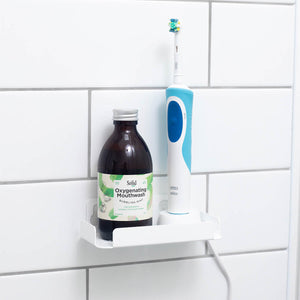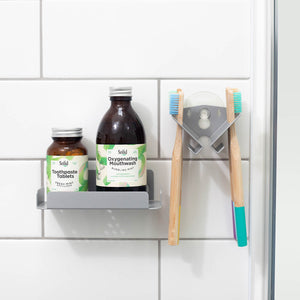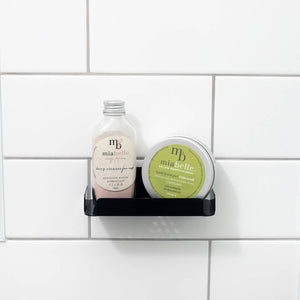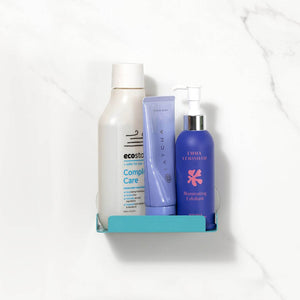 Little Shelfie for Small Bits and Bobs in the Shower
"What's not to love about this groovy little shelf that can be put up either way depending on your needs?! It's great. I adore all things Block Dock, and this doesn't disappoint."  Fiona, Auckland
Our Little Shelfie is ready to serve! If your shower doesn't have enough storage space, or your kitchen could do with a helpful ledge, Little Shelfie is just what you need.
With double holes for suction cups, you've got the option for flat top installation or little ledges to suit. Little Shelfie is 15cm long, 7.5cm wide, and 4cm tall. The base is punched with holes for drainage. It weighs 62 grams.
The Little Shelfie is made to hold a few light items. It won't hold a heavy load so please take care when choosing the items to go on it and keep your eye on balancing the load.
This accessory comes by default with one nanotape strip and two pvc suction cups for mounting to surfaces that are smooth and non-porous (acrylic, glass, mirror, vitreous china, many smooth tiles but not all).  Wet the back before adhering. If you'd rather have a natural rubber suction cup than a pvc one you can make the switch here. Suction cups won't stick to rough or porous surfaces, like textured tiles or paint because they can't form the vacuum needed to work. Use either the suction cups or the nanotape to suit your situation but take care place the nanotape on a surface you will be able to remove it from.
Please be sure to read out installation and care recommendations: How to look after your accessory to ensure it serves you well.
Best bathroom accessory ever!
Love this shelf - I no longer need to keep reaching to the floor in my shower to pick up conditioner, face wash etc, and blends into background against my white tiles so reduces the clutter too.
holds more than I thought
Pleasantly surprised by how much this holds! I was worried not everything i wanted to would fit and I'd still take up too much bench space in the shared bathroom. I'm glad to be able to migrate to the walls :')
Best shelf for the shower
This little shelf completes my collection of block dock accessories - two block docks and a little shelf is all we need. Love it!!!
Little Shelfie Teal
Very happy with my little shelfie! Works perfectly in the bathroom. Currently using it to store toothpaste etc. Its versatile so if I decide I want to use it for something else, or somewhere else I can. Easy to asssemble and put up. Love the teal colour too - just adds a nice splash of colour to the bathroom.
Holds well
Great shelf that holds quite a bit. Gets things out of the 'wet' zone so they are nice and dry but very accessible.
Little shelfie review
I purchased the little shelfie and a couple of blockdocks to use in my new house which is in the early stages of being built, so not actually using them yet. They look to be really well made and sturdy, and absolutely perfect for what i want them for. Thanks Blockdock!!