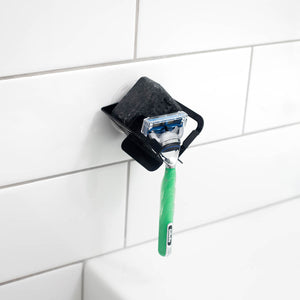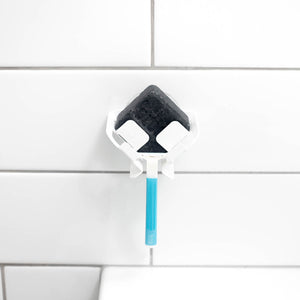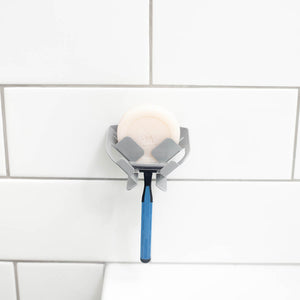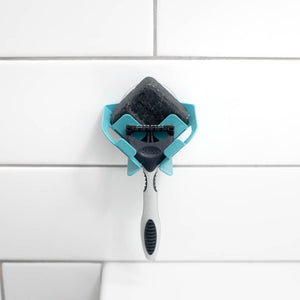 Slim Razor Dock
"Perfect storage solution. I am a convert to using solid shampoo and wash bars, and have been for some time. The issue of where to leave my razor lying around always bugged me though. My new razor DockTM is the perfect solution. I have been impressed with block dock simplicity and clever design and now this is a solution to my frustration as well. It looks great in my bathroom too." Sam, Browns Bay
Looking sharp as, the Slim Razor DockTM will being everyday joy to its user.
The Razor DockTM is made from aluminium which is powder-coated to be hardwearing and long-lasting like your Block DockTM. It's another matchy-match accessory in the range and one we hope might help see the end of those cans of foam!
The Slim Razor DockTM is designed to fit a shaving bar in the back with a manual razor sliding into the front section, hanging securely until needed. Take care when accessing the bar at the back. As it gets smaller, push the bar up with your finger from underneath the Dock. When the bar is very small, store it horizontally. Locate the Razor DockTM where you can easily look from above to access the bar safely.

The Razor DockTM for Slim Razors measures 8cm wide, 6cm deep and 5cm tall. The front section has 2.6cm depth for your razor (suits slimmer ones) and the back has 3cm depth for a shaving bar (we've got just the right sized one here). The gap at the bottom for the razor handle is 1.5cm though this can be manually widened if necessary. It weighs just 32grams. 
The Razor DockTM won't fit Ethique's Tip to Toe unless you cut it in two. Microwave for a few seconds to make cutting easier and use a very sharp knife (carefully) or a pizza cutter.
If your razor is bigger than this, it may be better suited to storage in an e-brush dock.
 This accessory comes by default with a pvc suction cup for mounting to surfaces that are smooth and non-porous (acrylic, glass, mirror, vitreous china, many smooth tiles but not all).  Wet the back before adhering. If you'd rather have a natural rubber suction cup than a pvc one you can make the switch here. Suction cups won't stick to rough or porous surfaces, like textured tiles or paint because they can't form the vacuum needed to work. If you are at all unsure if suction cups will work at your place, we suggest you add in some nanotapes too. 
Please be sure to read our installation and care recommendations: How to look after your accessory to ensure it serves you well.
Super Practical
Saw ads for this online and while I was on holiday in NZ, I bought one. Once I got home and realised how practical it was, I purchased another one!
Super handy
This is a great product to have in the shower for women, really easy to grab your razor and soap bar
Raving razors
We have four little ones in our family.and l have been looking for something to keep the sharp razors safely ouy of the way, but still easily accessible. This product fits my criteria. It is currently stuck to our shower wall, and being the innovating type my husband figured out how to fit both our razors.
Apart from the above, this dock also confirmed for my husbband the benefits of using a shaving bar rather than tinned shaving foam. I am stoked!
Fits perfectly
Fits soap and razor well. Easy to clean.
Love love love
Love the superwide block dock. Fits my ethique conditioner and a brand of shampoo I can't Remember (because the dock keeps it dry, it then lasts so long you can't remember) but it will get replaced with another ethique shampoo.
I love buying nz made products by awesome kiwi people. Beautiful colour teal. Sticks well. Never an issue. My bathroom is going to be amazing when I get all the docks I have planned to purchase. Thank you for an super super product.
Great idea
Holds the razor perfectly! We have our washing soap in behind but I purchased another soap holder so that after I convince the hubby to use shaver soap instead of shaving cream cans we will use it for that. Awesome product!