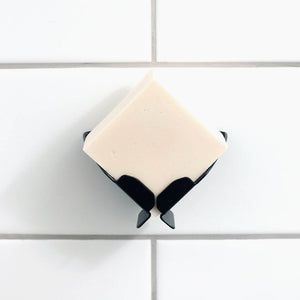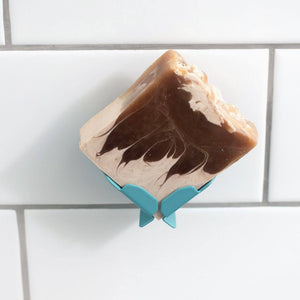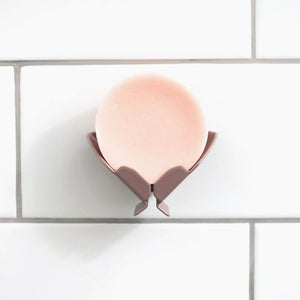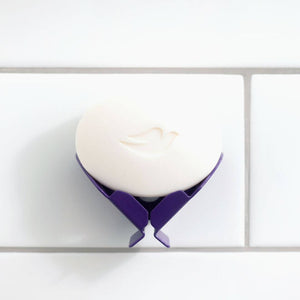 Block Dock Wide
"I first bought shampoo and conditioner bars over a year ago but didn't enjoy using them until I bought my block docks to store the bars. Bars stay dry and they look great too!"  Ingrid, Lower Hutt
She's a beauty with a coat in many colours so you can select whichever works best for your heart and home. Monochrome may be easy on the eye, but for pops of colour, combinations are the go. Our palette is chosen for its mix-and-match-ability. We encourage creativity in the shower and would love to see your combos!
This Block DockTM  is 8.45cm wide, 5.6cm tall and 4.3cm deep and weighs just 29 grams. It fits bars up to 3.8cm in depth – the shortest side of your bar. Place your bar at the front of the Block Dock when new, let it lean to the back as it changes size and shape with use.
Wides are an especially good fit for Ethique shampoo and body bars, Ecostore shampoo and conditioner bars, Mia Belle haircare and body bars,  Dear Heart Shampoo, Conditioner and Soap, Aveda Shampoo, Sunlight soap, Nectar and Ama Balm shampoos and conditioners, and and most other bars (except the very big and chunky ones) from when they are new and until their very last sliver. Wides are the workhorse of the collection.
Your soap bar holder comes by default with a pvc suction cup for mounting to surfaces that are smooth and non-porous (acrylic, glass, mirror, vitreous china, many smooth tiles but not all).  Wet the back before adhering. If you'd rather have a natural rubber suction cup than a pvc one you can make the switch here. Suction cups won't stick to rough or porous surfaces, like textured tiles or paint because they can't form the vacuum needed to work. If you are at all unsure if suction cups will work at your place, we suggest you add in some nanotapes too. If you'd rather use your Block Dock with a Base, get one here.
Please be sure to read our installation and care recommendations: How to look after your accessory to ensure it serves you well.
Love them so much I ordered more
Having made the switch to shampoo bars I needed some where to store them out of child's reach and away from the water splashback area. These large blocks are perfect for the Ethique bars and I ended up buying more to store our actual bars of soap in too so that the preschoolers can't keep painting the shower with them too - ah the joys of children.
The labels are great too, so no more getting confused which bar is which
Great!!
I bought the wide dock block to keep my shampoo and conditioner bars tidy in the shower, because I was sick of getting them out of the drawer every time I needed them. They're great as they allow the bars to dry when I'm not using them, meaning they last much longer.
Love my block docks
I now have 4 block docks set up in my shower and I love them. Super handy at keeping my bars dry and look great in my shower.
Want more!!
Love this, keeps the water off my soap in the shower so it doesn't go slimy.
Excellent design
Love this solution to soggy soaps plus they look cute and my daughter can reach her shampoo bar easily as I can set the height in the shower with suction back.
Got one, then bought two more
Got one with my Co-Wash bar. Have two bought more and will need a few more!
Very pretty and practical. I'm using them with Dove bars and they're fine. Would look nicer with a square bar, I guess. But I think it's fine as is.
Like another review, I had the soap saver bag, which I'm still using for the tiny ends of each bar. And that is hanging from one of this team's hooks, along with my puff. I had a hook from some big box store and it would fall off periodically.
Definitely not an issue for these. The suckers are designed to take the weight