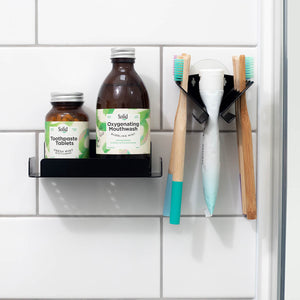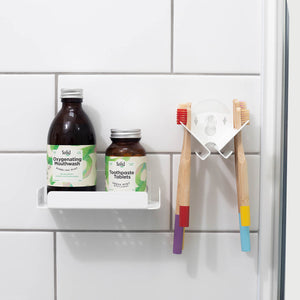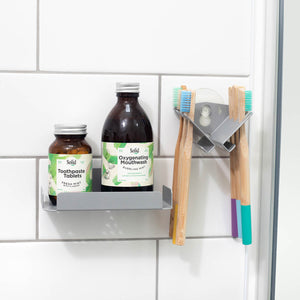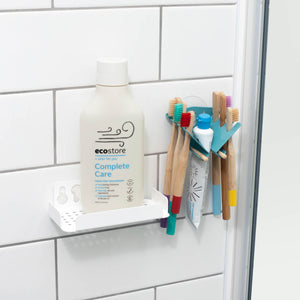 Brush Dock for 6
"There are 5 in our family. I get the bamboo toothbrushes on subscription but bamboo goes moldy in a jar. I was very excited when I was shown this brush dock. It sticks on my bathroom mirror, it stays on when the door opens and closes, the toothbrushes don't touch each other. I definitely recommend this product!" Rebekah, Whitianga
Never ever again will you have to clean out the bottom of the cup that has been holding your toothbrushes. That disgusting muck is gone for good! Nor will you suffer with mouldy bamboo.
The Brush DockTM is made to suit manual, handled toothbrushes. They simply hang in the small side slots. They'll be happy whichever way you face them so pick what works best for you. The heads of your electric toothpaste can be stored in this too.
Here's the best bit: The toothpaste tube simply slides (cap to the top) in and out of the centre of the Brush DockTM. As your tube gets empty simply bend it up and slide it in folded. It's SUPER EASY to use.

If you use interdental brushes, the fold in the legs is there so you can store those on the wee ledge that's created. If you have a metal tongue scraper you can hang that over that area too. I call them the underflaps – seems as good a name as any to me! If your tongue cleaner is brush style it can claim one of the Brush Dock's parking spots.
This one fits SIX hanging items - e.g. brush, tongue cleaner, and measures 8.5cm wide x 5.4cm tall x 6.5cm deep. It comes with a suction cup for mounting to smooth, non-porous surfaces. 
This accessory comes by default with a pvc suction cup for mounting to surfaces that are smooth and non-porous (acrylic, glass, mirror, vitreous china, many smooth tiles but not all).  Wet the back before adhering. If you'd rather have a natural rubber suction cup than a pvc one you can make the switch here. Suction cups won't stick to rough or porous surfaces, like textured tiles or paint because they can't form the vacuum needed to work. If you are at all unsure if suction cups will work at your place, we suggest you add in some of our triangular nanotapes too. 
*Little Shelfie to hold toothpaste tablets and mouthwash is sold separately.
Need a Little Shelfie too? She's here
Please be sure to read our installation and care recommendations: How to look after your accessory to ensure it serves you well.
Your toothcare storage will be transformed. It looks simple, and it is. That's also why it works!
Love it
Got the bigger size and it's great!
Block dock 6
We are a family of six. This brilliant little addition to our bathroom means less clutter on the countertop; no mouldy water in a cup; more independence for the little ones, because they can reach their toothbrushes themselves. Love the fact that this dock will remain functional as they get older (all six and under now).
Very practical and durable, and suitable for a larger family. Thank you, it's what l have been searching for.
Brush Dock
I recently received my Brush Dock and to date I am very happy with it. Due to the covering on my bathroom walls, it would not be easy to screw a toothbrush holder in place, so the suction aspect of the Dock was a great alternative. It seems to have a strong suction and has stayed in place, and I am happy to have made the area next to the basin a little tidier. I bought the teal Dock and it looks great.
Great product, so handy!
We stuck our 6 person toothbrush holder on the bathroom mirror. It's so handy to have our 3 toothbrushes on one side plus the Grin tooth flossers on the other side. Great product, we love it! 😊
So enthusiastic about this product!
This toothbrush dock is amazing! I got the 6 brush dock for our 5 electric toothbrushes. The fit isn't perfect for 5, but would be for 4. Perhaps a dock with bigger spaces could be invented for electric brushes? I'm still so happy though, no more brushes cluttering the bathroom with all their ickyness!
Brush dock for 6
There are 5 in our family. I get the bamboo toothbrushes on subscription but bamboo goes moldy in a jar. I was very excited when I was shown this brush dock. It sticks on my bathroom mirror, it stays on when the door opens and closes, the toothbrushes don't touch each other. I definitely recommend this product!